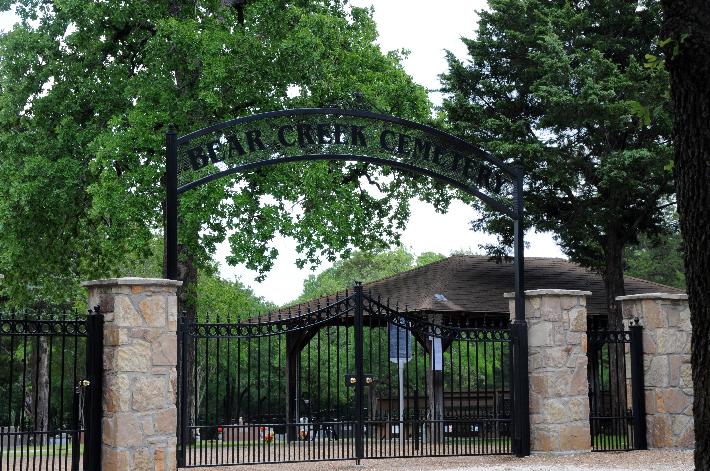 MAIN ENTRY
Board of Directors
President- Alan Egerton
Vice President- Leon Wambsganss
Secretary- Edward Jones
Treasurer- Susan Egerton
Technical Director- Ron Turner
Welcome
Thank you for visiting the Bear Creek Cemetery website. This site is periodically updated with pictures and news about the cemetery. If you have any questions or comments, please feel free to contact us by email or at one of the listed phone numbers in the "Contact Us" section.
History
This cemetery is the final resting place for many early Tarrant County pioneers, several of which were Peters Colonists and Confederate soldiers. In 1853, as Major Ripley Arnold was vacating the camp known as Fort Worth, a small group of settlers formed a church located near Bear Creek, the present location of the cemetery. Isham Crowley donated the four acres of land for the church and cemetery.
The church moved in 1887, abandoning the cemetery. Mr. Morris Taylor, Mr. Lee Borah III, and Mrs. Mary Lou Herndon organized volunteers and filed with the State of Texas, which placed the cemetery into a Charitable Trust. Bear Creek Cemetery is now officially a 501-C13 and overseen by a Board of Directors. It is not a perpetual care cemetery, but is indeed a very well cared for cemetery thanks to the great membership and dedicated volunteers.
You are welcome to visit this wonderful place of rest 365 days a year during daylight hours.
Please review the new information on the News/Update page.