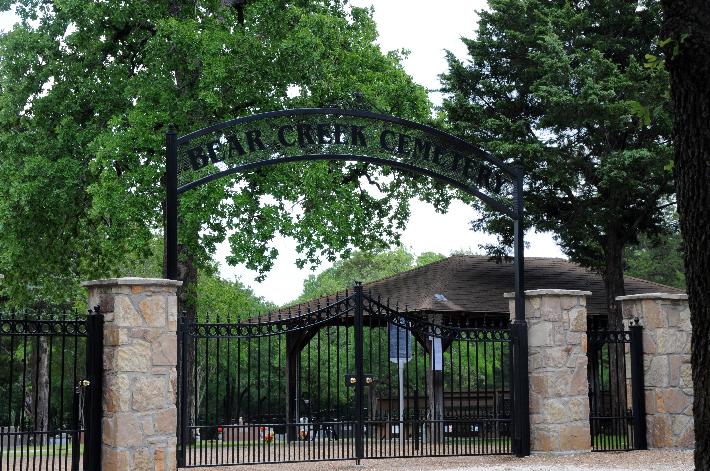 MAIN ENTRY
Board of Directors
President- Alan Egerton
Vice President- Leon Wambsganss
Secretary- Edward Jones
Treasurer- Susan Egerton
Technical Director- Ron Turner
IN MEMORIAM
It is with much sadness that we announce the passing of our dear friend, Mr. Roy Jeffery. Roy was the Sexton of the cemetery for over 20 years. Roy's love and dedication to Bear Creek Cemetery was second to none. He will be greatly missed by all.
Donnelly's Colonial Funeral Home in Irving will hold a visitation on Saturday February 6th between 6 pm and 8 pm. Internment is at Bear Creek Cemetery is Sunday February 7th at 2 pm.
Welcome
Thank you for visiting the Bear Creek Cemetery website. This site is periodically updated with pictures and news about the cemetery. If you have any questions or comments, please feel free to contact us by email or at one of the listed phone numbers in the "Contact Us" section.
History
This cemetery is the final resting place for many early Tarrant County pioneers, several of which were Peters Colonists and Confederate soldiers. In 1853, as Major Ripley Arnold was vacating the camp known as Fort Worth, a small group of settlers formed a church located near Bear Creek, the present location of the cemetery. Isham Crowley donated the four acres of land for the church and cemetery.
The church moved in 1887, abandoning the cemetery. Mr. Morris Taylor, Mr. Lee Borah III, and Mrs. Mary Lou Herndon organized volunteers and filed with the State of Texas, which placed the cemetery into a Charitable Trust. Bear Creek Cemetery is now officially a 501-C13 and overseen by a Board of Directors. It is not a perpetual care cemetery, but is indeed a very well cared for cemetery thanks to the great membership and dedicated volunteers.
You are welcome to visit this wonderful place of rest 365 days a year during daylight hours.
Morris Frank Taylor, 96, went to be with the Lord on February 23, 2012, at his home in Irving. He was a life-long
resident of the DFW area and lived most of his life in Irving.
He was born November 12, 1915, in Estelle, Texas, which was incorporated into Irving. He was preceded in death by his parents, Ocie and Vergie Taylor, his brother James (Zip) Taylor, and his second wife Thelma (Allen) Taylor. Morris graduated from Grapevine High School, served in the U.S. Army (Infantry) throughout World War II, and was a 60-year Master Mason and Worshipful Master at the Estelle Lodge 582, A.F. & A.M. He owned and managed the first Tom Thumb-affiliated grocery store in Irving (Sower's Food Market). One of his great joys was helping to organize and manage the rescue and restoration of the Bear Creek Cemetery (established in the 1800's) on the western edge of DFW International Airport. He was a founder of the Bear Creek Cemetery Association, and served as a Trustee and volunteer with the Association until his death. He was instrumental in helping to have the cemetery declared an official Historic Texas Cemetery. Family and friends remembered Morris as an honorable, kind, respectful, empathetic, and deeply spiritual gentleman.
Please review the new information on the News/Update page.