For your convenience, we now accept donations online.
Your support is most welcomed and very much appreciated.
Per cemetery policy, all Holiday decorations currently on graves, plus the bags of adornments that were collected from Baby Land and placed in the storage for pick up six weeks ago, will be discarded on

February 1st

. If you wish to keep any of these items, please pick them up prior to February 1st.
Thank you for your help and cooperation.
Bear Creek Cemetery Board of Directors
January 4, 2018
Dear Friends, Members, and Colleagues,
As the years have passed, and with thanks to your great support, Bear Creek Cemetery's Baby Land is heading towards sunset. There are now only a very limited number of spaces remaining in this part of our cemetery. We estimate that within the next six to twelve months this garden will be totally full. At which time, we will no longer offer our Baby Land Service package to the community.
For the last seventeen years, we have endeavored to help families during this tragic time of need. I must say, for us personally, Baby Land is indeed the hardest service to do as volunteers at Bear Creek Cemetery - so much sadness and pain.
As always, we would like to thank all the Funeral Directors who have placed their trust in us and for allowing us to assist their families.
Yours sincerely,
Bear Creek Cemetery Board of Directors
With the ever increasing number of headstone and interments at the cemetery over the years, it has become more difficult for our mowing contractor to complete the weekly service in a timely manner. They have respectfully asked if we could request that our members limit the amount of adornments set around the monuments. This will allow them to use their weed eaters and blowers without sending items airborne and without the need for them to remove and replace each individual item that has been placed and is not affixed appropriately. I feel sure that we would all agree that when you installed your marker, this was indeed your main recognition of love and respect, and the tribute to your loved one. We, of course, are aware and recognize that seasonal events and special anniversaries will and should be marked "temporarily" in a special way. However, please do not go overboard on decorations, and please plan to remove the additional items a few days after your special event, which indeed will help everyone by allowing maintenance to keep the cemetery neatly mowed and your spaces correctly edged.
With the greatest of respect, and appreciation, to our wonderful membership.
Bear Creek Cemetery Board of Directors
April 13, 2017

Dear Members,

Bring your family and join us at the 2017 meeting of the Bear Creek Cemetery Association, to be held at 10:30 a.m., Saturday, May 13, 2017. As usual, our business meeting will be followed by a potluck lunch. Please bring your chairs and a covered dish that may be enjoyed by all.

We must start with a huge "thank you" to all our members for their very generous donations last year — it was unbelievable.

You may have noticed that the pavilion has been completely finished, way ahead of schedule, and is now being used for services. The early completion of this project was due to the overwhelming generosity of one of our families (who wishes to remain anonymous) they donated the entire amount to purchase the ultraviolet shades which enclose the pavilion, thereby completing the project. We are indeed blessed by the generosity of all our members, we have a community that truly cares. Thank you so very much!

Several more trees have been planted and we have completed an upgrade on our sprinkler system; we have also purchased several pieces of new equipment. Following Roy's passing last year, Salesi Uhatafe has stepped in to become our maintenance helper. He is very knowledgeable and capable of performing many of the more manual tasks, so the board invested in the necessary equipment to allow him to perform these services for us — this will reduce our need to hire outside contractors.

We have reached out to contact Mr. Donahue, the Chief Executive Officer of the D/FW Airport, regarding the possibility of the airport's board helping us with the parking lot. We have also had follow-up meetings at the airport headquarters with Ms. Valdez–Thompson and Mr. Naja, both Executive Vice Presidents. It is of great concern to our BCC Board of Directors that the uneven surfaces make it very difficult to walk in our parking areas, especially for our senior members. We would also like to establish some marked designated parking spaces for our disabled visitors. An onsite visit with the airport's advisory team has been scheduled for late April, and we will discuss that outcome at our Annual Meeting (keeping our fingers crossed).

At last year's annual meeting, we discussed the necessity of raising prices for burial spaces, effective August 1, 2016. The Board delayed the increase until January 1, 2017, in order to provide members an opportunity to purchase additional spaces, if desired, prior to the increase. The new price structure became effective on January 1, and the current price information is available at www.bearcreekcemetery.com under Prices.

The Board also revised and has now published our Grave Flower & Decoration Policy which is also available on our website, under Decoration Policy. This information was previously available only in the contract. Please review our policy and help us to continue to maintain a beautiful and well-kept cemetery.

We are in the process of enhancing our cemetery data application. We now have the capability to enter our veteran members' military service information. If you think we are missing this information for your loved one who served in the military, or if you wish to update the information, please email admin@bearcreekcemetery.com with your information — please include rank, military branch, and war/compaign(s).

In conjunction with our veteran information, we make every effort to mark and honor our veterans with a United States flag. Unlike most other cemeteries, we honor our fallen veterans year-round. If we have missed a veteran's grave, please send an email to the cemetery admin and we will quickly correct the omission.

Bear Creek Cemetery is still officially closed for the sale of full spaces to non-members; however, we can still offer the community cremation and Baby Land burial services.

Thank you once again for your support. It is indeed an honor for us the serve you as board members, and to continue to help families during their time of need.

Respectfully,

Your Board of Directors

Vice President - Leon Wambsganss

Secretary - Edward A. Jones

Treasurer - Susan A. Egerton

Technical Director - Ron Turner






In Honor of Our Veterans
Bear Creek Cemetery honors each of our veterans with a United States flag. Bear Creek Cemetery is one of the few cemeteries in North Texas that allows the American flag to fly on veterans' graves year-round. What a lovely sight to see all the flags in the cemetery!
If your loved one served in the military and does not have a flag on his or her grave, please contact Bear Creek administration so we can rectify the situation.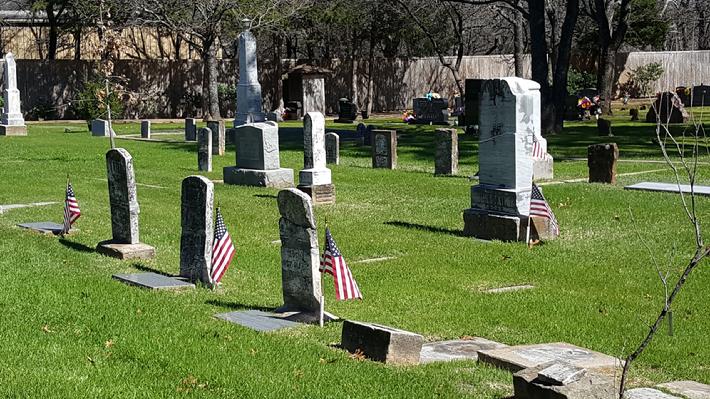 A view of the Historic section with U.S. flags.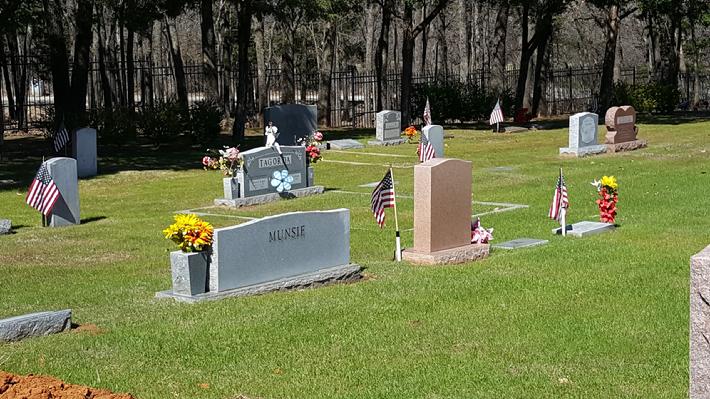 A view of the Northwest section with U.S. flags honoring our veterans.
We have experienced numerous email address returns. Please make sure your email information is up to date at

admin@bearcreekcemetery.com

.

Thank you.