For your convenience, we now accept donations online.
Your support is most welcomed and very much appreciated.
April 2018
Honor Gardens:
Having been approached on several occasions by families, Bear Creek Cemetery is pleased to announce that we have dedicated space as "Cremation Honor Gardens". These two gardens are exclusively for our Honorable Military Veterans, and First Responders. These gardens will also accommodate both single and double cremations and are located on the East and West ends of our existing Baby Land area. All Military spaces must be marked with the official Military supplied head stones, either upright or flat. We are so very proud to Honor those who have served our great country.
Prices and additional information is on the Prices page.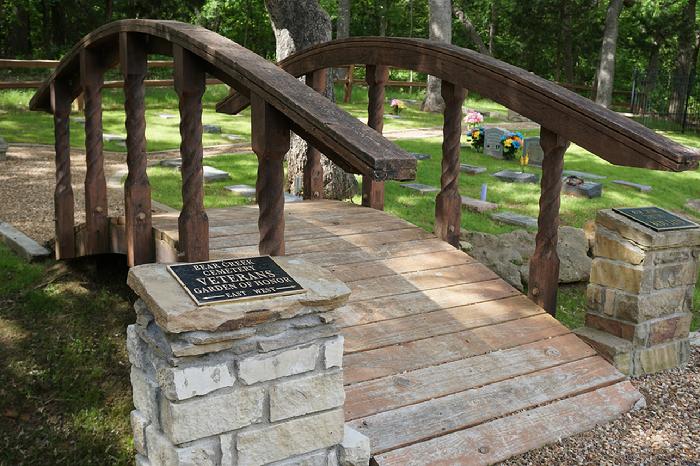 Entrance Bridge to Garden of Honor
Garden of Honor East
Garden of Honor West
With the ever increasing number of headstone and interments at the cemetery over the years, it has become more difficult for our mowing contractor to complete the weekly service in a timely manner. They have respectfully asked if we could request that our members limit the amount of adornments set around the monuments. This will allow them to use their weed eaters and blowers without sending items airborne and without the need for them to remove and replace each individual item that has been placed and is not affixed appropriately. I feel sure that we would all agree that when you installed your marker, this was indeed your main recognition of love and respect, and the tribute to your loved one. We, of course, are aware and recognize that seasonal events and special anniversaries will and should be marked "temporarily" in a special way. However, please do not go overboard on decorations, and please plan to remove the additional items a few days after your special event, which indeed will help everyone by allowing maintenance to keep the cemetery neatly mowed and your spaces correctly edged.
With the greatest of respect, and appreciation, to our wonderful membership.
Bear Creek Cemetery Board of Directors
In Honor of Our Veterans
Bear Creek Cemetery honors each of our veterans with a United States flag. Bear Creek Cemetery is one of the few cemeteries in North Texas that allows the American flag to fly on veterans' graves year-round. What a lovely sight to see all the flags in the cemetery!
If your loved one served in the military and does not have a flag on his or her grave, please contact Bear Creek administration so we can rectify the situation.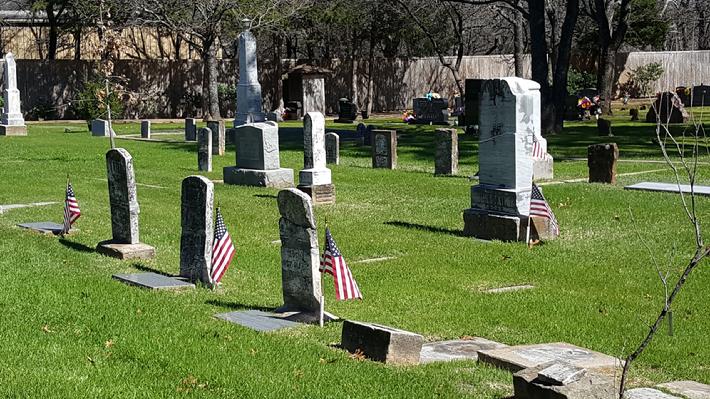 A view of the Historic section with U.S. flags.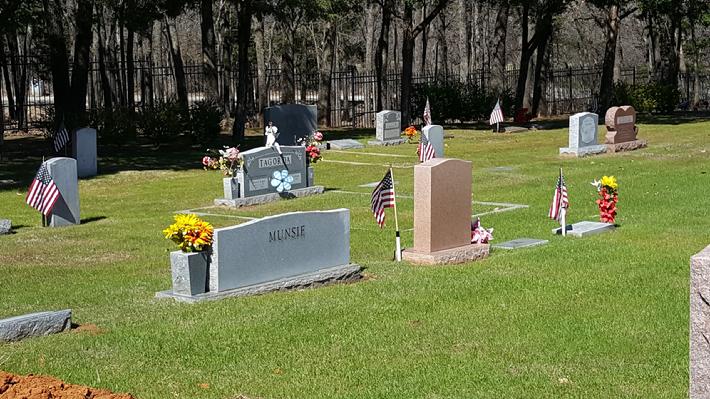 A view of the Northwest section with U.S. flags honoring our veterans.
We have experienced numerous email address returns. Please make sure your email information is up to date at

admin@bearcreekcemetery.com

.

Thank you.